First things first- there's a slight difference between content syndication and content distribution. Marketers often get confused between these two terms. Content syndication is a part of your overall content distribution strategy.
Syndicated content gets spread faster as compared to other content. Content syndication can help you achieve your business goals easily. It can boost your SEO rankings quickly.
Syndicating content has got both advantages and disadvantages!
Advantages- it will help you to generate backlinks and boost your domain authority.
Disadvantages- it can bring you repetitive content penalties and decrease your search rankings.
Hence, it is necessary to syndicate your content properly with more focus. There are many tools available in the market nowadays that will help you proper and effective content syndication.
Now, you must be searching for the best content syndication tools? Well, you have landed on the right article.
In this article, we will be discussing everything you need to know about content syndication and the best content syndication tools you can use for content marketing without any trouble.
What Is Content Syndication?
Content syndication is the process of promoting your original web content, including articles, blogs, and videos, on other websites to increase traffic to your website.
If you want to syndicate your content, you need to use content syndication tools. There are a lot of such tools available, but you must focus on choosing the best one for your business. Some of these tools are free to use and some are paid.
The syndication networks with premium and informative content tend to have large, loyal audiences and higher domain permissions. When you share your content on such platforms, you can enhance your website's popularity.
Why Should You Syndicate Your Content?
Content syndication helps you accomplish a wide range of goals. You can use content syndication to drive traffic to your site and build a user base for your product.
Below, we have mentioned some benefits of content syndication, have a look!
Provides effective backlinks
Content syndication enables you to get quality links to your site that can prove to be helpful for your visitors. The visitors can click on such links to get more information about the products or services.
Improves website authority
Syndicating your content automatically improves your website authority as you get links to your website.
Syndicating content is good for SEO. It automatically boosts your website ranking in search engines which will help you to drive a huge organic traffic.
Writing content for each social media platform is very time-consuming. If you want to save more time thinking what type of content can grab your target audience, you must buy a content syndication tool and syndicate your content in several platforms in just a few clicks.
Boosts brand messaging and sentiment
With a good placement of your brand across multiple media, you can promote your business in the industry.
Captures the crucial leads
With external people on your website, you have an opportunity to engage with them and provide them with information about your brand. Content syndication allows you to connect with people over different platforms which will help you to get new leads as well.
You can build a strong user base for your business by capturing leads you get through content syndication.
Top 8 Content Syndication Tools
So, you know what exactly is content syndication and how can it help your business. Now it's time to check out some of the best content syndication tools that can prove to be beneficial for your business.
1. VideoSeeder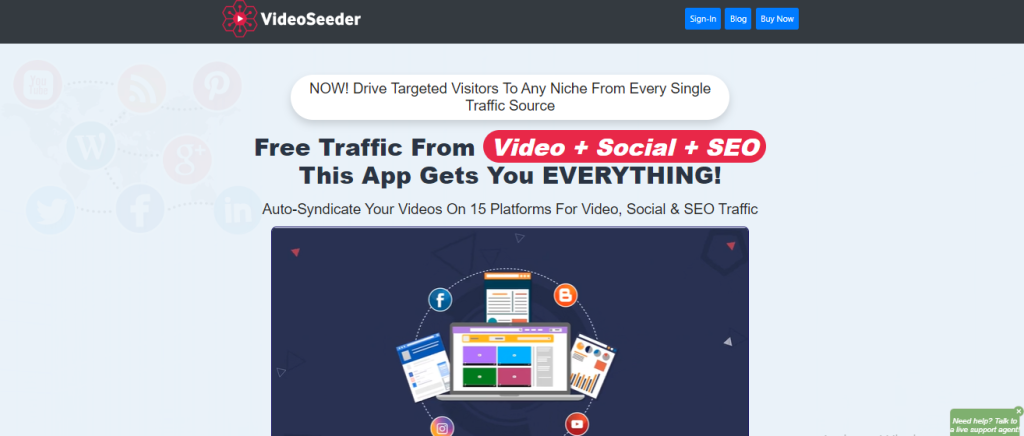 VideoSeeder is a video syndication tool that auto-syndicates your videos on more than 10 social media platforms for video, social & SEO traffic. This tool helps your SEO traffic grow faster.
VideoSeeder creates a powerful traffic multiplier that never stops sending notifications and creates a powerful traffic strategy that has multiple sources of traffic feeding into each other.
Unlike other syndication tools, VideoSeeder posts videos only with your IP addresses which keeps your business safe.
Videoseeder Features:
Gets you more views on videos
Gets you more engagement on social media
Affordable
Maximizes your video's organic reach
Posts your videos on blogs on WordPress & Blogger.
Gets high-quality backlinks from powerful sites
Climbs up the SERPs.
100% safe and approved application
Runs from your computer, not a server
Protects you from being marked spam due to others.
Hands-free. Schedule & forget.
Drive social media traffic to your videos and get more views on your YouTube videos.
Support for Spintext makes every post 100% unique and fresh.
2. Zemanta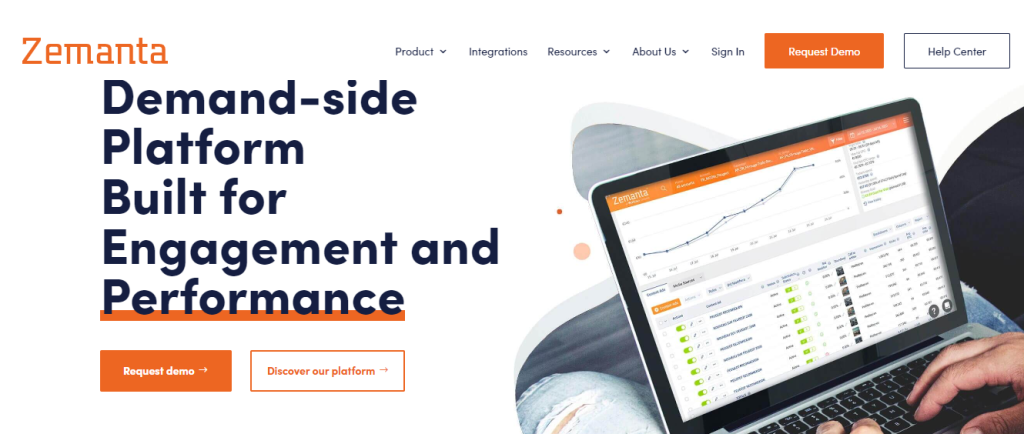 If you are looking for a self-serve platform that is backed by artificial intelligence and helps with planning, creating, and tracking all your campaigns in one place Zemanta is for you. It offers some of the most advanced features in the market to create end-to-end programmatic campaigns easily
It provides access to 35+ networks for native promotion to drive quality traffic for any content.
Zemanta Features:
CTR prediction technology that is powered by A.I.
Bid modifiers
Allow analytic integration
Transparent reporting to measure ROI distribution
3. DFY Suite 2
It is a content syndication platform that helps to republish content to YouTube and other social media platforms on automation. This tool has been created by Joshua Zamora and claims to provide its users with buyer traffic within 48 hours of syndication.
The best part about this tool is you don't need to download any software just submit an Url and the rest is done by the application in itself.
DFY Suite 2 Features:
Build in links to popular sites for easy syndication
Automatic video embedding
Provides authority chart for sites
Free training included
4. Taboola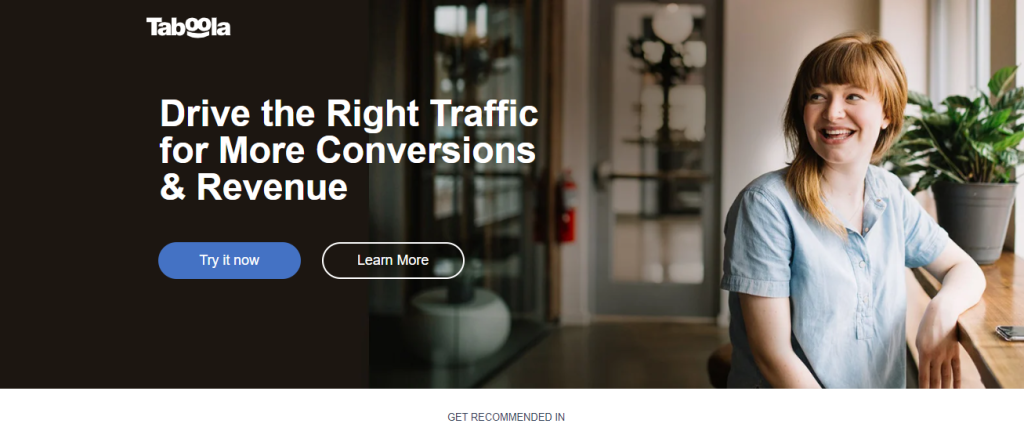 Taboola is a content discovery and syndication platform that offers local placement of content on top sites.
It assists marketers and publishers in uploading content to attract users and make money from traffic. It is a content syndication platform that provides personalized content to its billion users per month.
Taboola Features:
Reaches new audience
Creates meaningful engagements
Drives marketing results
Increases website traffic
5. Scoop.it
Scoop.it has become a preferred platform for businesses to publish content online.
With the new social media and SEO tactics, Scoop.it's content is now driving its online visibility and helping business owners generate new business and potential customers.
Scoop.it Features:
Publish content
Distribute content
Publish content for your target audience
Increase traffic
6. Outbrain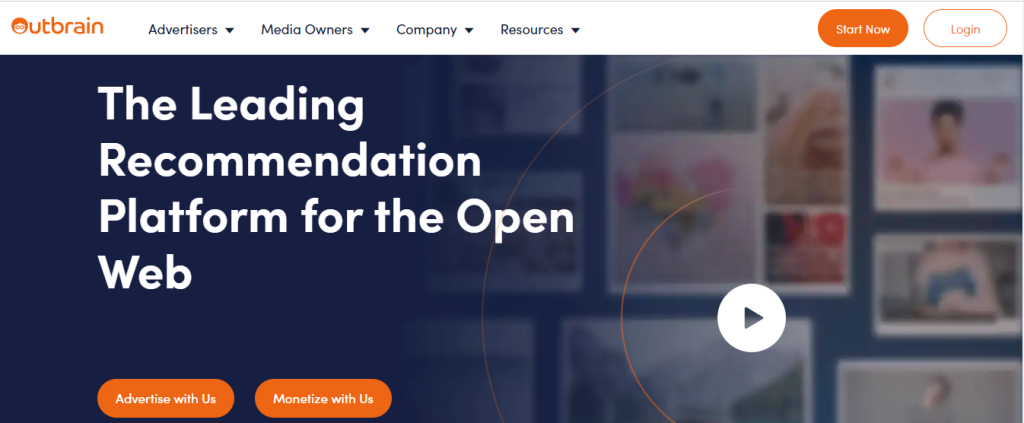 Outbrain specializes in native ads and embeds videos (and other media of your business) within high-profile websites. It is a content syndication tool for brands that are looking to promote their products through native advertising.
This tool can be useful if your YouTube channel is a way to promote your business because the viewers click directly on the ad embedded in their page.
Outbrain Features:
Reaches new audience
Creates meaningful engagements
Drives marketing results
Increases website traffic
7. Zergnet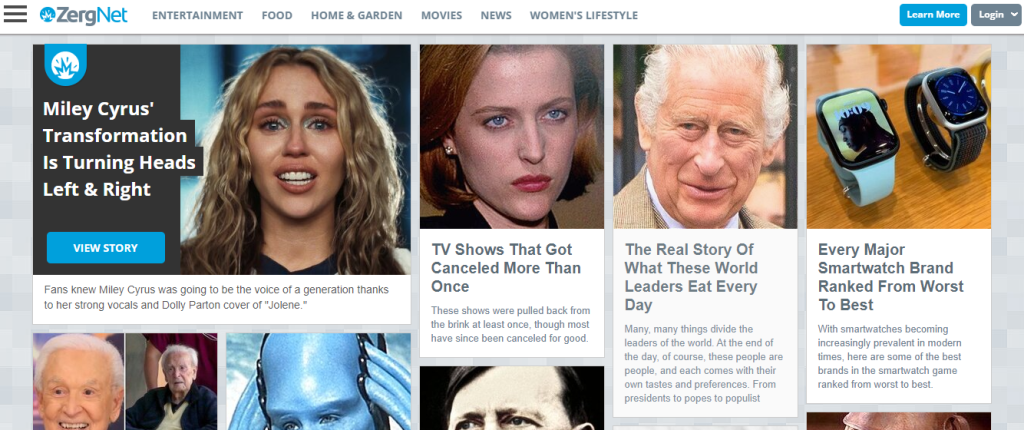 Instead of simply re-uploading your content under another site's header, Zergnet bases its video sharing around a widget.
The subscribers on Zergnet place the widget on their sites and share fellow subscribers' content. This ultimately drives traffic, resulting in new viewers who may not have discovered your content before.
The customization features on Zergnet prevent the service from appearing too spammy. The subscribers can choose which kinds of videos they want to include on their sites.
Zergnet Features:
Boosts your videos or content
Provides insights
Maximizes your video's reach
Compares view velocity
8. SyndicationApp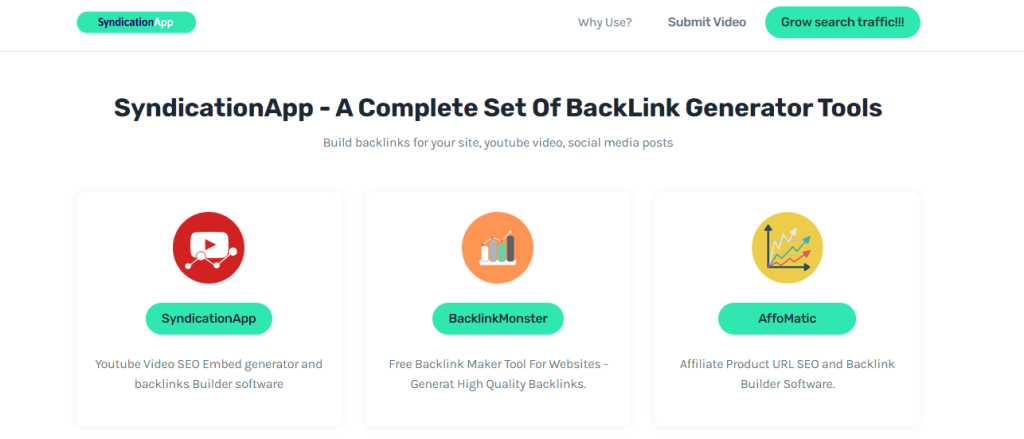 SyndicationApp is designed specifically to help build backlinks, it offers a sharing network of private blogs and lets subscribers automatically share their content to sites within the network. It is a simple process as the subscriber has to just upload the content once and it is shared automatically.
The tool also offers the ability to embed videos directly on websites, it could be a good option for those promoting both, your content and your YouTube channel.
SyndicationApp Features:
Increases traffic
Organically shares content
Boosts your content
Helps you grow your business
Conclusion
Content syndication is extremely important for your business. Video syndication is a great way that can help online content, including videos, smoothen the sharing process and reach more viewers.
In today's increasingly competitive digital space, a good way to syndicate content is to prioritize tools that specialize in reaching your target audience. The right video syndication software can help you manage your content and help your videos climb the rankings quickly.
The tool Videoseeder is a tool that you can consider as it comes with all the features you need for content syndications and it is super-affordable too.
Have you tried any of the tools listed above? Let us know in the comments below!
Thanks for reading.
42
1
0
cookie-check
Top 8 Content Syndication Tools Every Marketer Must Have